Our Favorite Bolly Shaadi Scenes!
April 29th, was a day that a once-in-a-lifetime event took place in London and though it was a national day of celebration in the UK, it was seen very much on an international stage. Yes, we're talking none other than the fairy tale wedding of Prince William to the now Duchess of Cambridge, Catherine Middleton. Since Bollywood is our passion, we thought we would mark the extravagance and the pyaar of the occasion by choosing some of our personal favourite Wedding scenes and songs.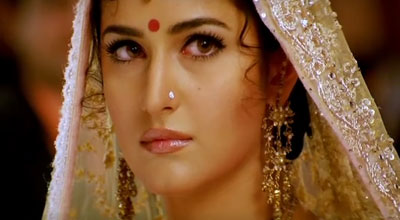 Humko Deewana Kar Gaye
There are so many wedding scenes in Bollywood movies, but the scene that I always think of when the word wedding is mentioned is a scene from the movie Humko Deewana Kar Gaye. Perhaps not the most romantic or happy scene but for some reason it has always stuck with me. Back in the day when the actress was not as well known as she is today and before she dubbed her own lines this is one of my favourite Katrina Kaif movies.
Katrina Kaif looks absolutely stunning in her bridal attire, she is alone in a room with Anil Kapoor's character, Karan Oberoi, and wants to know why he wants to marry her. He says its for her "beautiful eyes", her "lips" and her "loveliness" but he does not say anything else. At that moment you know and Jia realises that Karan does not love Jia for who she is, but more because she looks good on his arm, while Aditya (Akshay Kumar) loves her for her. The song 'Mere Saath Chalte Chalte' follows and you know that Bipasha Basu's (Sonia) character realises that Aditya who is her fiancé is in love with Jia. It was the bond that Aditya and Jia shared that was so sweet and lovely, the chemistry between the two characters was so real.Throughout the whole scene they did not have to utter a single word, their eyes showed all their emotions, which for me is the ultimate talent! -Meera Sharma
Mahaanta (1997)
Sanju (Sanjay Dutt) and Jenny (Madhuri Dixit) are in love. But unfortunately even Mahesh (Tej Sapru), the son of the mighty "Sea King" Seth Kedarnath (Amrish Puri) casts an eye at Jenny. By threatening to kill Sanju and his family, Kedarnath forces Jenny to accept a marriage with Mahesh, but in front of all the wedding guests Sanju in a courageous act snatches Jenny from under Mahesh's nose, dances the 'Ek Taraf' with her and, challenging Kedarnath, marries her himself in spite of the arriving police. Once again a victory of true love? Not really if you know the rest of the movie... but that's another story.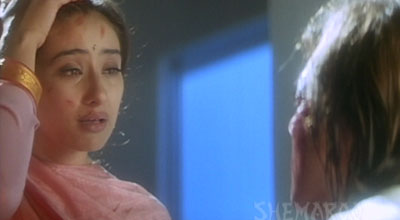 Kartoos (1999)
Minnie (Manisha Koirala) has fallen in love with Raja - not knowing that he is Jeet (Sanjay Dutt), a murderer working as a killer for ACP Jay Suryavanshi (Jackie Shroff). But his love to Minnie has changed Jeet, and he doesn't want to kill anymore. After Jay forced him to fulfill a last commitment, Jeet decides to confess the truth about himself to Minnie. It's an incredibly touching scene when he, stained with his victim's blood, kneels before her and, weeping with shame and guilt, asks her to leave him as he's not worthy of her love - but she holds onto her love, touches the blood on his face, strokes it on her hairline and thus takes Jeet as her husband. -Ingrid Zellner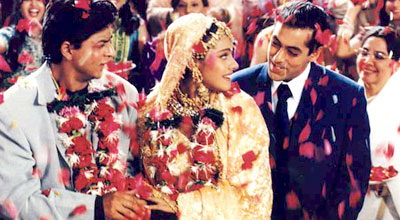 Kuch Kuch Hota Hai - climax scene
For me this is one of the greatest, the most romantic, the definition of filmi pyaar and you know what, for part of it not a word is spoken. Let me set the scene for you. Rahul (Shah Rukh Khan) and Anjali (Kajol) were best friends in college. However, Anjali secretly loved Rahul and when he fell for Tina she went away. They run into each other again through the machinations of Rahul's daughter little Anjali. Once again, they connect but once again their prem kahani stops before it can bloom. Finally, finally Rahul realizes that he loves her, he goes to find her and GASP she is getting ready to marry someone else. She is standing on the balcony in her full bridal finery; he walks in to the room by chance...the audience is already sighing. He walks up to her, takes her hand places in on his chest, then to his heart and then to points to her...I LOVE YOU... a shooting star goes by but then he leaves... sighhhh. But of course this being Bollywood there is more. She is walking down to marry Aman; she and SRK are staring at each other with longing. You can feel it right? Salman Khan, in one of his best moments on screen, grabs her hand and instead of pulling her to the Agni he gives her to Rahul. Tears abound both on screen and in the theater and Rahul and Anajli get their happys endings! This scene is one of my favorites of all time because it has everything longing, sacrifice, and finally true love wins in the end. No, I did not tear up just writing this, really!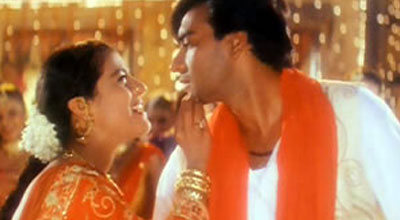 Pyar To Hona Hi Tha - 'Aaj Hai Sagai song'
This is a great engagement/wedding celebration song and one of my favorite song picturizations of Kajol and Ajay Devgan in one of my all time favorite films. What makes it so special is the colors, the energy, the fun, the characters and of course seeing Ajay being lighthearted and Kajol dancing. Add in the great choreography to a wonderful song with fabulous playful lyrics going back and forth between the men and the women.… what more could you ask for! Sing along now...aaj hai sagaayi sun larki ke bhaayi (Today's the engagement; listen up, brother of the bride) zara naachke humko dikhaao (just dance for us a little) - Stacey Yount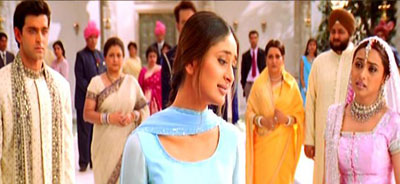 Mujse Dosti Karoge - climax
Although this movie is perhaps made up of very romantic moments, it is the last scene which creates the biggest impact. One sees Rani Mukerjee and Hrithik Roshan praying in front of a Radha-Krishna murtis. They look at each other as although they are in love, circumstances are such that on that day they are both set to wed other people. Suddenly, the unimaginable takes place. A gust of wind, an open trinket of sindoor... and somehow, it falls upon Rani's head in a place which signifies that she is wed. To her horror, she looks helpless and lifts her arm to rub it off and finds herself being stopped by Kareena who has found out about hers and Hrithik's love and the sacrifice that they were due to make. What follows are a lot of tears and a monologue by Kareena to stop the two making the biggest mistakes of their lives in fear of her loneliness.
Hum Aapke Hai Koun - 'Wah Wah Ramji' song
The film's turning point, its main event and its build up is the wedding. Mohnish Behl and Renuka Shahane (now Rana) play the couple whose marriage is arranged. The festivities that follow show the union of the two families and, it's almost a tradition for the bride's sister and the groom's brother to take charge of the singing and providing of the entertainment. The song 'Wah Wah Ramji' happens on the occasion of the engagement whereby the two tease their respective siblings and seek to teach the other about their brother/sister's habits. A popular yet sweet song which sees the coming together of Salman Khan and Madhuri Dixit, a jodi that made history purely just on the basis of this film. -Amrita Tanna
So there you have it. A little glimpse in to our faves in the hope that they will inspire you to find the "Bollywood-ness&" as you re-watch the Royal wedding. (Not that any of us are doing that either... really!) We wish the Royal couple a world of happiness and may their love continue to grow... in true Bollywood forever style!
http://bollyspice.com/view.php/6997-our-favorite-bolly-shaadi-scenes.html