Madhuri and the emergence of the New Age heroine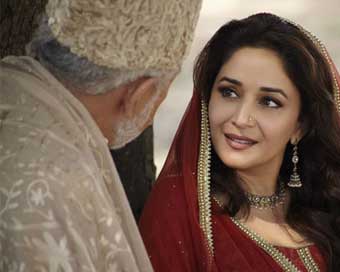 Writing off a heroine at 32 is the worst form of patriarchal punishment. Madhuri Dixit's return can facilitate the process of changing this mindset.
Those were the 80s and the 90s. I was among those who hated the hero who he romanced Madhuri Dixit (now, Madhuri Dixit-Nene) in a movie. In my neighbourhood lived a senior who had created a calendar with a separate page for every month and a different photograph of a Madhuri smile on each one of them. So, well, one could have called him a smile collector. Another chap carried Madhuri photographs in his wallet and checked them every half an hour. Of course, most of us wanted to marry her. But I shall leave that part of the confession for some other day.
With Dedh Ishqiya, she is back. She is 47, which makes her as young or as old as the three Khans. In a shamelessly male-dominated commercial Hindi film industry, the Khans are acting opposite heroines who are half their age. As has traditionally been the case, this is never questioned because the mind of the Hindi film-watcher has been trained to accept a commercial film as a product in which the man is what matters with the womanís presence being an ornamental one. I do see a change, with films like The Dirty Picture and Kahaani trying to challenge conventions and succeeding as well. In the larger context, however, it is the stereotype that sells.
So much so that I am amazed to see some critics note that while Madhuri is as compelling as ever, her luminosity has diminished. I donít remember any one of them saying that while SRK is lively in Chennai Express, he doesnít look as charming as he did during his Dilwale Dulhania Le Jayenge days; or that Salman Khan may be the biggest hit machine in India, but he lacks the youthfulness of Saajan; or that Aamir Khan, who rocks in Dhoom 3, has lost the baby-faced look of Qayamat Se Qayamat Tak.
I donít give a damn to the commercial verdict on Dedh Ishqiya, but what I do know is that many youngsters who werenít born when she became the female version of Amitabh Bachchan in the Hindi film industry are looking forward to it. It is we, who form the middle-aged or the older sections of the population, who are marketing prejudices and creating preconceived notions without realising that firstly, Dedh Ishqiya is not a typical commercial film, Madhuri had to play a diva-like character which she has the way only she can, and the very fact that the film was widely spoken about as Madhuriís comeback shows what she still means to the industry. That, in itself, is a huge compliment.
Why am I not at all bothered about the business of Dedh Ishqiya which I should be? It is because I believe that the discussion on the Madhuri factor is an indication of how things might shape up in the future. Vidya Balan who is in her mid 30s and at the peak of her career can hope to get many big projects even after three or four years which will be a big step forward. Aishwarya Rai-Bachchan can aspire for a similar future should she return to the films in a big way. Those who are far younger Ė Priyanka Chopra, Katrina Kaif, Deepika Padukone Ė need not worry about the short shelf life of heroines like others had to before they quietly disappeared from the scene.
Talent and class will survive, unscathed by age till that time when one cannot logically be a hero or a heroine any longer. But a heroine wonít be compelled to stop playing the female lead at 32, which is both ridiculously young and the consequence of a deplorable form of patriarchal punishment.
In the meantime, I hope to see Madhuri in varied and challenging roles which she can with the sort of ease that very few can match. Forty seven and the loss of luminosity in a role that needed her to look like she did: come on guys, donít tell the world that you have a pathetic sense of humour.
http://www.saharasamay.com/nation-news/opinion/676545999/madhuri-dixit-priyanka-chopra-katrina-kaif-deepika-padukone.html