Diva divine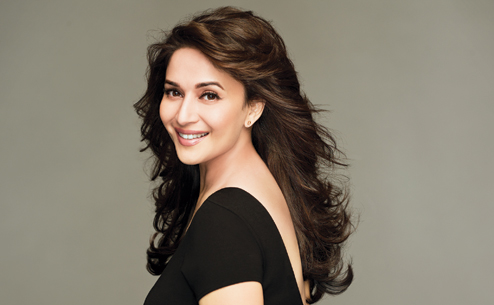 Actress Madhuri Dixit is still as fresh and sparkly as her million-dollar smile, says
Sushmita Biswas
She was the muse of celebrated artist M.F. Husain, the woman who he called, "the most complete actress India has ever produced". The superstar of the 1990s who could make or break a movie with a few dhak-dhak steps and the hint of a ravishing smile.
Madhuri Dixit Nene climbed to the very peak in Bollywood and then made a discreet exit to distant Denver and a low-profile married life. But she insists that she never chucked up Bollywood for good. So don't make the mistake of calling this her second coming. "I never went away completely," she insists.
But whether you call it a second coming or a return after a sabbatical, how will Madhuri Dixit, the one-time queen of the silver screen, find her niche in the new Bollywood at the age of 46? The answer to that is she's making all the right moves and grabbing all the new opportunities that simply did not exist when she was at the top of her game.
On a rain-soaked afternoon, there's buzzing action in a suite at Mumbai's JW Marriott. Brand managers and make-up artists are dashing all about. At the centre of it all, Madhuri is holding forth on cosmetic brand Olay's new anti-ageing product range for which she is brand ambassador. Dressed in a black net dress she breaks into peals of laughter when asked about her ageless beauty, "For me, age is just a number. It's your talent which gets better with age."
The mantra for her well-toned look today is extensive cardio workouts. And no, she hasn't given up on her favourite ginger-flavoured tea and fried pakoras. "Since my husband is a doctor, we follow a strict diet at home. I eat five mini meals in a day," says the diva while extolling the goodness of Olay Regenerist's wrinkle reducing day and night creams.
It's sparklingly obvious that the dhak-dhak girl is enjoying every moment of her second innings in Bollywood. She has already picked up a string of endorsements in quick succession — from tea to Basmati rice — and reportedly still commands premium prices of around Rs 3 crore per endorsement and Rs 4 crore to Rs 5 crore per film.
"The strength of brand Madhuri is driven by past work in films and her recent role as a judge on Jhalak Dikhhla Jaa 6 on Colors," says Gautam Jain, Insights Head, Films, Ormax Media, a media tracking company.
For her comeback, however, she has chosen young, newer directors to work with. She says: "There are so many young directors wanting to tell good stories and willing to work with strong, female-oriented subjects."
She had even talked to director Rituparno Ghosh who, before his unfortunate demise, was eager to work with her. Says Madhuri: "Some time ago we were in talks to do a film together. Unfortunately, this has remained an unfulfilled dream."
But she isn't pining for the old days when she was the queen bee. She insists that Bollywood is now a better place in many ways. Says Madhuri: "Technically, it has become better." And what about the competition? "I don't feel any kind of competition as there's room for everyone."
Her outing on the small screen, too, has turned into a winning move. Currently, she is busy judging the sixth season of dance reality show Jhalak Dikhhla Jaa along with co-judges Karan Johar and Remo D'Souza. She smiles enthusiastically and says, "I am game for any opportunity related to dance."
Madhuri has already charmed her way on the screen as a judge in two of the earlier seasons of the reality show. Her TV career began back in 2002 when she hosted a show Kahin Na Kahin Koi Hai, which was a match-making reality show on Sony Entertainment.
But the real comeback has to be on the silver screen. In her upcoming film, Gulaab Gang, Madhuri plays the firebrand leader of a group of women activists in Bundelkhand. Says Madhuri: "I play the head of a vigilante group that is fighting social injustice." In the movie, Madhuri plays Rajjo, the gang-leader, and her co-star is Juhi Chawla, who plays the villain. The film, which is at the post-production stage, is scheduled to release in September.
Gulaab Gang is directed by debutant director Soumik Sen and produced by Anubhav Sinha. Says Sen: "I pitched this project to her soon after she returned from the US as I could not think of any other woman playing this role."
Of course, Madhuri did make one earlier attempt to break back into the movie industry. In 2007, she teamed up with Yash Raj Films to make Aaja Nachle,which bombed at the box office.
Besides being a good dancer, she's also a good singer. The actress has recently sung a kajri (a semi-classical song) in Sen's Gulaab Gang along with her mother Snehlata, who is also a trained classical singer. She laughs: "I tricked my mom into singing. I asked the director if we could use her voice and he made some quick modifications."
Madhuri will also be seen playing Shahi Begum in director Abhishek Chaubey's Dedh Ishqiya, which also stars Naseeruddin Shah and Arshad Warsi. Dedh Ishqiya for which she's shooting right now is the sequel to Chaubey's 2010 film, Ishqiya. Says Madhuri: "I play a strong but vulnerable woman based in Lucknow, who is fond of reciting Urdu poetry." The film is scheduled to release in December 2013.
When it comes to dance there are few who can match steps with Madhuri. But recently, the dancing diva made some quick moves with actor Ranbir Kapoor in the song Ghagra from Yeh Jawaani Hai Deewani. She smiles cheerfully: "It was like a ched-chad (teasing) between Ranbir and me." Ranbir, of course, is full of praise for her, He says: "She is an iconic dancer and every step is so graceful. I felt blessed to work with her."
Moving adroitly in another direction she has also launched her own production company called RnM Moving Pictures recently. And, unusually, the first offering from her company is an online dance academy called dancewithmadhuri.com, where she will be teaching dance online. Says Madhuri: "The good part is that one can learn dancing anywhere without having to physically go to a studio." Right now the website's focus is mainly on Bollywood numbers, which are easier for people to learn.
Choreographer Saroj Khan who has taught her dance right from her first blockbuster Tezaab reckons that her dancing skills have not waned. She says: "Recently, we teamed up once again for Gulaab Gang, where she has done a folk number. Earlier there had been moments when I even shouted at her for her mistakes but like a true shishya she had accepted whatever I had said."
The actress is also clued into technology and has recently launched a mobile app available on all iOS devices. This mobile app will provide all the relevant information about her including her pictures, film trivia, and health and beauty tips.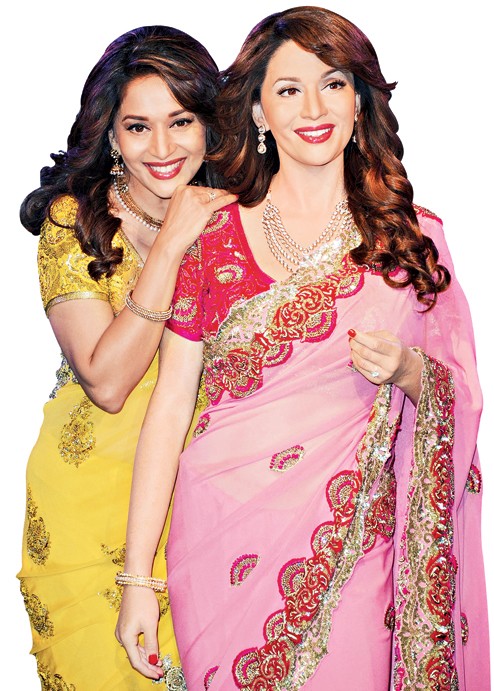 What is Madhuri like off screen? Says Saroj Khan: "She was never the outspoken kind." Gulaab Gang director Sen talks about her as a warm person with an amazing sense of humour.
Madhuri attributes her success to her middle-class upbringing. She's from a Mumbai-based Marathi Brahmin family and she's the youngest of the children — two other daughters, Rupa and Bharathi and a son, Ajit — of Shankar and Snehlata Dixit.
Madhuri was initially studying to be a microbiologist at Mumbai University. But in 1984 she made an unheralded entry into Bollywood in the Rajashri Productions' movie Abodh opposite Bengal's leading man Tapas Paul. The film failed but she became fascinated by the whole creative process of filmmaking. Thereafter, it took eight films for her to get into blockbuster stride in N.Chandra's Tezaab, opposite Anil Kapoor.
After that it was director Subhash Ghai who became her mentor and catapulted her into a bigger league with blockbusters like Ram Lakhan, and Khalnayak.
She achieved superstardom in the '90s with films like Dil, opposite Aamir Khan, in which she played an arrogant girl who falls in love with a poor boy. In 1992, she featured in the blockbuster, Beta, opposite Anil Kapoor, where her dance number Dhak Dhak Karne Laga became all the rage.
Which are her own favourites? She immediately points to Hum Aapke Hain Koun..! opposite Salman Khan and Sanjay Leela Bhansali's Devdas in which she played Chandramukhi. She says: "At home, my sons love these two films and keep watching them over and over again."
She vanished from the screen after marrying US-based cardio-thoracic surgeon Shriram Nene. The couple has two sons — Aarin,10, and Raayan, eight. So how has motherhood changed her? "When you have kids, they become the centre of your universe and life revolves around them."
But right now, the actress is focused on her career once again. And yes, audiences are waiting with bated breath to see what it's like when a superstar returns to the screen.
http://www.telegraphindia.com/1130714/jsp/graphiti/17110538.jsp#.UeL5jL_wzWY.twitter