Madhuri Dixit and Naseeruddin Shah rejoice their journey on the set of Dedh Ishqiya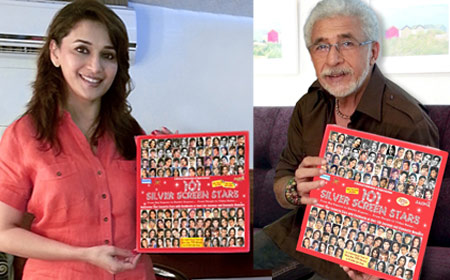 MUMBAI: The "ek, do, teen girl" – Madhuri Dixit rejoices her journey in the bollywood with 101 Silver Screen Stars along with Naseeruddin Shah one of the veteran of the Indian film industry.
At the sets of forthcoming flick "Dedh Ishqiya", the duo relived their journey in the bollywood when they were gifted a pack of 101 Silver Screen Stars – a mini encyclopedia by Shemaroo. 101 Silver Screen Stars treasures the journey of 101 stars from the galaxy of Bollywood. This audio-visual treat on the life journeys of 101 popular Hindi film heroes and heroines is not merely a compilation but a well-researched Collector's Edition with interesting anecdotes; more than 550 song clips and 101 full-length songs.
Madhuri Dixit, the actress expresses herself on the occasion, "Presently, the Celebrations of 100 Years of Indian Cinema are in full swing. All of us have very interesting and distinct memories of the Celluloid world. It is such a sweet gesture on the part of Shemaroo Entertainment to have remembered 101 Superstars of all times who have made these 100 years memorable. I too feel privileged to be a part of these 101 stars and have loved the entire segment devoted to me. It was really wonderful re-living the subtle moments of my life like my love for the B&W CHHAYA GEET during my childhood etc. I wish to congratulate Shemaroo on its completion of 50 Golden years and for bringing out such a wonderful gift to celebrate 2 occasions – its own Golden Jubilee & the Centenary of Indian Cinema."
The actor, Naseeruddin Shah shares his thoughts, "A wonderful effort and a different approach of paying tribute to Superstardom. A very interesting mix of actors & actresses. Would like to congratulate Shemaroo for this research-intensive product in their 50th Year. It has carved its own niche and managed to cut through the clutter surrounding the 100 years of cinema."
http://www.radioandmusic.com/content/editorial/news-releases/madhuri-dixit-and-naseeruddin-shah-rejoice-their-journey-set-dedh-ishqiya