Biggest Fan Of Madhuri Dixit Contest 2011

Hello Everyone



It gives us great pleasure to announce the Biggest Fan of Madhuri Dixit 2011 Contest at MDF.

What are you required to do?
You all are gr8 fans of Madhuri Dixit and we know that.This is just a fun to see who will be biggest fan of Madhuri Dixit this year.You guyz have seen all(mostly) her Movies,So we will ask you 5 questions from her movies and you have to answer that,whoever gives most number of correct answers will win the contest.

The Prize
We will choose top 5 winners who will get direct membership to our photo and video gallery section and 20 points each.And then we will do a lottery to choose our final winner.
The winner will get a cool gift from MDF.Those who are from outside India can also participate but they would only get some wallpapers and photos of Madhuri Dixit as prize.

Is that all the winner will get??
Winner will win the Winner rank for this year 2011.





Contest will be start from 10th September 2011.If you are interested post your name and location here.

PS-Moderators and Staff Members are not allowed to play.


Regards,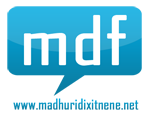 Last edited by sumi on Mon Sep 12, 2011 11:25 pm; edited 2 times in total